Coconut oil has been used for centuries as a vital source of food for health and general well being in traditional communities of tropical regions. Recent research verifies traditional beliefs that the coconut palm is The Tree of Life and that, just like any other pure, whole food, coconuts and virgin coconut oil have a significant role to play in a well balanced, nutritious diet. Abandoning unhealthy lifestyles and reverting to natural foods can help to reverse many of the diseases that have manifested in our bodies through the highly refined diet of our modern society.

Virgin coconut oil is one of the safest oils to cook with. It does not contain trans fatty acids and does not break down, even at high temperatures, unlike many other oils.

Coconut oil is known as the "energy fat" and is favoured by dieters, athletes, and body builders. It is slightly lower in calories than most other fats and oils and is processed in the liver and converted directly into energy.

Virgin coconut oil is also used for making soaps and lotions.
NOT ALL VIRGIN COCONUT OILS ARE CREATED EQUAL
Coconut oil from Coconut Connections is ultra smooth and creamy (not waxy) with a pleasant fragrance. It does not contain any trans fatty acids or chemicals and is suitable for vegans.

Virgin coconut oil is made from fresh coconut meat, NOT copra, and the resulting product should have a distinct taste and fragrance.


Wild Harvest Virgin Coconut Oil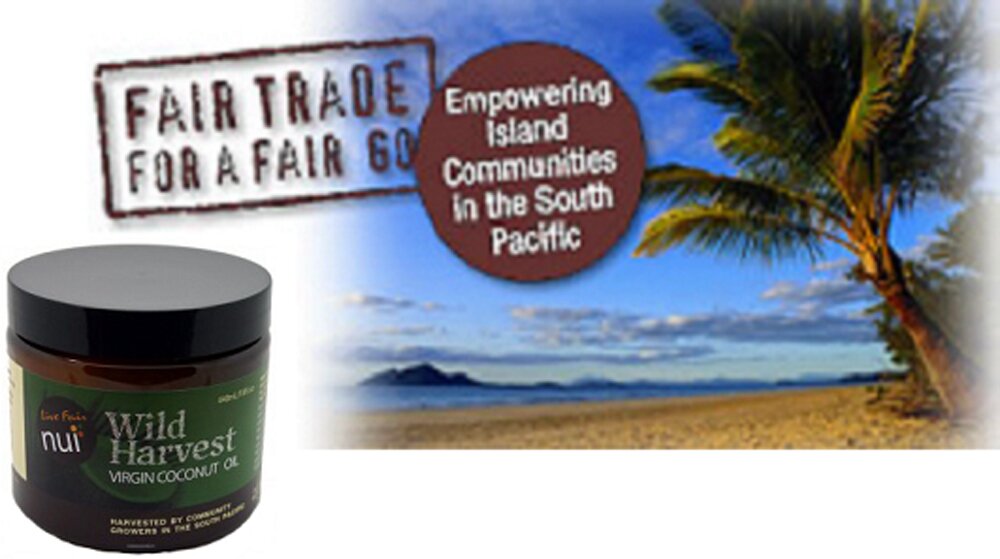 Wild Harvest coconut oil is sourced from indigenous community growers of the Pacific Islands.  This virgin coconut oil is made from hand picked and harvested wild growing crops. The Nui virgin coconut oil comes from African Pacific, a dedicated Australian ethical trading company, which is passionate about achieving social and economic empowerment for the people of the South Pacific.

This virgin coconut oil is produced using a process, pressing the oil within one hour of opening the nut, without the use of excessive heat or any chemicals. 

Remaining coconut husks are used for power generation.

NOT ALL VIRGIN COCONUT OILS ARE CREATED EQUAL 
Wild Harvest Virgin Coconut Oil is fairly traded under the guidelines of the Fair Trade for a Fair Go charter of engagement.

Traditional communities in tropical regions have for centuries used virgin coconut oil as a vital source for food, health and general well being.
Coconut oil is saturated fat and does not contain any trans fatty acid or fats produced by modern refining and processing methods. This oil is unique in its structural make-up as it is the highest source of saturated fats (92%), of Medium Chain Triglycerides (62%) and 50% of these MCTs are made up of Lauric Acid, the most important essential fatty acid.

WE DO NOT SHIP PRODUCTS OUTSIDE EUROPE



"The doctor of the future will give little medicine, but
will interest his patients in the care of the human frame, in diet and in the cause and prevention of disease." 
Thomas A. Edison

COCONUT OIL QUICK BUY


If you don't have a PayPal account you can
check out with your debit or credit card as usual
by clicking on the 'check out' button and then on
'Don't have a PayPal Account?'


We do not ship to destinations outside Europe.
If you place an order from outside the EU then your payment
will be refunded less any applicable handling charges.



Prices include shipping charges
Best Before date on current stock is 01/2014


Please be sure you've read our Terms & Conditions and Distance Selling Regulations before purchasing.  No responsibility will be taken for personal taste.  Each batch of coconut oil can vary in taste and fragrance depending on the prevailing growing conditions.


EMPOWERMENT THROUGH OPPORTUNITY

Nui Virgin 100% Wild Harvest Virgin Coconut Oil is processed from coconuts collected in sustainable, wild grown and small holder plantations around  (Longtal) on the Espiritu Santo island in Vanuatu.  Vanuatu is an island nation located in the South Pacific Ocean.  The archipelago, which is of volcanic origin, is some 1,750 kilometres (1,090 miles) east of northern Australia, 500 kilometres (310 miles) northeast of New Caledonia, west of Fiji, and southeast of the Solomon Islands, near New Guinea.