Wild Harvest Virgin Coconut Oil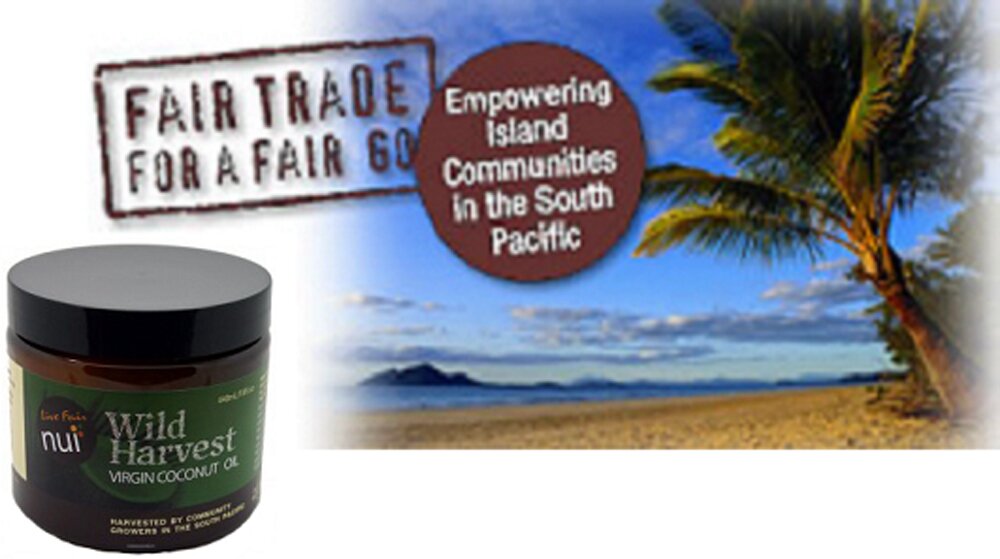 How it's made
Wild Harvest coconut oil is sourced from Nuiís indigenous community growers of the Pacific Islands. This virgin coconut oil is made from hand picked and harvested wild growing crops. The Nui virgin coconut oil comes from African Pacific, a dedicated Australian ethical trading company, which is passionate about achieving social and economic empowerment for the people of the South Pacific.

This virgin coconut oil is produced using a unique process, pressing the oil within one hour of opening the nut, without the use of excessive heat or any chemicals.

Remaining coconut husks are used for power generation.

NOT ALL VIRGIN COCONUT OILS ARE CREATED EQUAL
Nui Wild Harvest Virgin Coconut Oil is fairly traded under the guidelines of the Fair Trade for a Fair Go charter of engagement.

EMPOWERMENT THROUGH OPPORTUNITY
Nui Virgin 100% Wild Harvest Virgin Coconut Oil is processed from coconuts collected in sustainable, wild grown and small holder plantations around Kole (Longtal) on the Espiritu Santo island in Vanuatu. Vanuatu is an island nation located in the South Pacific Ocean. The archipelago, which is of volcanic origin, is some 1,750 kilometres (1,090 miles) east of northern Australia, 500 kilometres (310 miles) northeast of New Caledonia, west of Fiji, and southeast of the Solomon Islands, near New Guinea.
Traditional communities in tropical regions have for centuries used virgin coconut oil as a vital source for food, health and general well being. New research is verifying these traditional beliefs that virgin coconut oil has the potential to cure many of the ailments that have manifested in our bodies through the highly refined diet of our modern society.
Coconut oil is saturated fat and does not contain any trans fatty acid or fats produced by modern refining and processing methods. This oil is unique in its structural make-up as it is the highest source of saturated fats (92%), of Medium Chain Triglycerides (62%) and 50% of these MCTís are made up of Lauric Acid, the most important essential fatty acid.

To find out the history behind coconut oil and frequently asked questions please visit virgincoconutoil.co.uk